How can aerial surveys help?
Our aerial roof surveys for school systems allow you to more efficiently plan and budget roof repairs using real data. We scan large numbers of roofs at a time using high-speed, high-resolution infrared imaging systems mounted to light aircraft.
These infrared images are examined to see which roofs have problems that need to be addressed. This method is much faster and more cost-effective than on-roof infrared surveys that require scanning each individual roof.
How does it work?
The process for aerial roof surveys for school systems can be broken down into three different phases. Please note: We have minimum contract amounts, for more information call 800-248-SCAN or visit our Contact Us page.
Your team sends us a list of all flat and low-sloped roofs that have been selected for surveying
We send back an online map image of each building to be included
All school site locations are verified correct by your management team
We fly each school site location with high resolution IR imagers
We produce a report including all of the individual roofs, showing which buildings have problems and the locations of suspected subsurface wet areas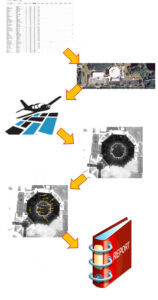 Joint review of phase 1 data with your management team takes place by net meeting where all roofs are reviewed
Problem roofs are singled out and selected to be upgraded to a full survey. (This is optional)
We fly selected school locations and create high-resolution photographs of the schools that have been chosen for a full survey
Suspected wet areas are outlined using CAD drawings and high resolution photographs
Full survey reports are generated on the selected roofs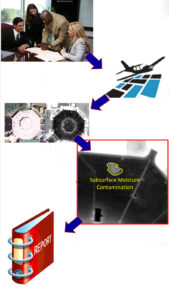 Interested in surveying only one roof? Check out our on-roof moisture surveys.
Why choose us?
Unmatched experience within the application of aerial infrared
Highest-quality infrared equipment available, capturing "invisible" problems
Refined imagery collection and processing systems
Professional & experienced staff of thermographers well-versed in infrared applications
---
---